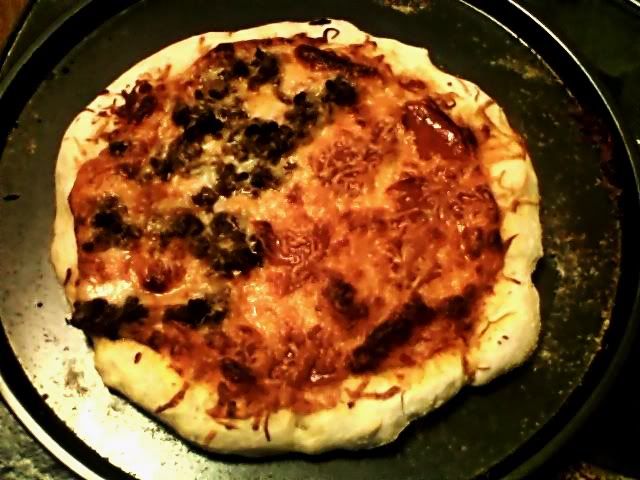 Who doesn't love a good pizza now and then? I know I do!! My mom and I have made homemade pizza together a few times now, and it's always a fun family experience! Plus you can individualize each one just the way you want! At home we have a pizza stone we make our pizza on, but I lack that here so I improvised and used a pizza sheet. I also cut the recipe in half since I was cooking just for me. Here is a simple recipe for pizza dough :) the dough recipe is courtesy of Emeril Lagasse
http://www.foodnetwork.com/recipes/emeril-lagasse/basic-pizza-dough-recipe2/index.html
Ingredients
1 cup warm water (110 degree)
1 packet of active dry yeast
1 teaspoon sugar
1 tablespoon olive oil (plus more)
3 cups bleached all-purpose flour
1 teaspoon salt
Assembly
In a large bowl combine water, yeast, sugar, and 1 teaspoon olive oil. Stir together and then let sit for about 5 mins. This will allow the yeast to activate and the mixture will look foamy.
After about 5 mins add part of the flour (start with about a cup) and the salt. Mix together with your hands. I also warn that you should be sure to remove any rings you wear at this time unless you don't mind getting them quite messy! Mix with your hands until the flour is well incorporated and then continue to add the flour (mixing between each batch) until flour is well incorporated. Once flour is all incorporated turn the slightly sticky dough to a lightly floured surface (i use a cutting board) and kneed the dough for about 5 mins.
After the 5 mins of kneading, use about 1 1/2 teaspoons olive oil to coat the bottom of a large bowl. Take the dough and form it into a slight ball and place it in the oiled bowl. Cover the bowl with plastic wrap and set aside in a warm draft free area until the dough doubles in size. This'll take about 1 to 1 1/2 hours.
When dough is double in size uncover it and punch it down in the middle to deflate it. Then you can take it from the bowl and use it to make your pizza!
Making Pizza
Make sure the oven is preheated to about 425 to 450 degrees. If you are using a pizza stone put the stone in first and then preheat the oven with the stone in. If using a pizza sheet spray the pizza sheet and then spread the cornmeal on the sheet.
Take the pizza dough and start to spread it out. Take the dough and start to spread it out to make the pizza crust. Once you get it spread a bit place it on the pizza sheet and continue to stretch it until you have the desired consistency. Spread the pizza sauce down and then add a nice layer of cheese (your choice). Add the toppings and I always finish with a finishing layer of cheese on top. Cook times may vary depending on how many toppings you put on so keep an eye on the pizza. It is done when the cheese is nice and melted and the crust has a golden brown tint to it!
Final Thoughts
There you have it! Homemade pizza dough that tastes quite delicious! It's something great to do with someone else, my mom and I still make it together and it's always a fun time! We usually trade off the kneading job! The dough can be stored in the fridge overnight if you don't use it all or you can use it to make pepperoni rolls, stromboli, soft pretzels, or breadsticks! Explore and have fun! Hope you enjoy! Happy eats!